Success: Grassroots Pressure Moves Arizona 2nd Amendment Preservation Act Forward
Posted by Adam Henriksen
Today, the Arizona State Senate Rules Committee held a vote on Senate Bill 1112 (SB1112), the 2nd Amendment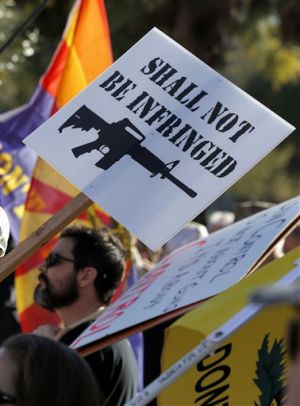 Preservation Act. The bill would nullify federal attacks on the 2nd Amendment and the right to keep and bear arms. It reads, in part:
B. AN OFFICIAL, AGENT OR EMPLOYEE OF THE UNITED STATES GOVERNMENT SHALL NOT ENFORCE OR ATTEMPT TO ENFORCE ANY ACT, ORDER, LAW, STATUTE, RULE OR REGULATION OF THE UNITED STATES GOVERNMENT RELATING TO A PERSONAL FIREARM, A FIREARM ACCESSORY OR AMMUNITION THAT IS OWNED OR MANUFACTURED COMMERCIALLY OR PRIVATELY IN THIS STATE AND THAT REMAINS EXCLUSIVELY WITHIN THE BORDERS OF THIS STATE.
The bill also requires state interposition to enforce the act via criminal charges for federal agents in violation:
E. A PERSON WHO VIOLATES SUBSECTION B OF THIS SECTION IS GUILTY OF A CLASS 6 FELONY.
The bill passed out of the public safety committee by a 4-2 vote in late January, and wasn't brought to a hearing in the Rules Committee (which needs to vote YES on the bill before a full Senate vote can happen) until this afternoon.
Sources close to the Tenth Amendment Center inside the Capitol had learned late last week that two powerful Republican Senators, Adam Driggs and John McComish, we going to kill the bill by voting NO in the rules committee. Their concern? They had taken the position that nullifying unconstitutional federal gun laws with this bill would be "unconstitutional."
After an urgent action alert sent out by the Tenth Amendment Center this past weekend, a number of grassroots activists started calling both Senators to let them know that they would demand nothing less than a YES vote on SB1112. Quickly, the pressure started producing results. Public response by the senators' staff sounded a bit different this morning – and oddly similar to each other – "We aren't doing anything to block this bill."
While neither were doing anything to prevent the bill from getting a HEARING in the Rules committee, their promised NO votes on SB1112 would have done just what our action alert this weekend said they would have done – prevent the bill from a hearing or vote in the full state senate. why? Because no votes from both would have killed the bill completely by a vote of 2-5.
Instead, grassroots pressure and some deft political work by sponsors of the bill have given supporters of the 2nd amendment in Arizona a victory. Today, when push came to shove, both Senators came in line and voted YES. SB1112 passed the rules committee by a 4-3 vote The bill was passed out of rules with a note of "PFCA W/FL, proper for consideration with recommendation for a floor amendment" The recommendation was to strike the section including felony charges, but that will be up to the full state senate instead of just 2 people who were willing to kill the bill in committee.
SB1112 now moves to the Senate floor for debate and vote in the near future.
ACTION ITEMS for Arizona
1. Contact your state senator and urge them to vote YES on SB1112 as is when it comes up for a full floor vote. Find your senator here:
http://www.azleg.gov/alisStaticPages/HowToContactMember.asp
2. Encourage your local community to take action as well. Present the 2nd Amendment Preservation Act to your city county, your town council, or your county commissioners. Various local governments around the country are already passing similar resolutions and ordinances. Local legislative action present a great way to strengthen a statewide campaign against 2nd Amendment violations
model legislation here:
http://tenthamendmentcenter.com/2ndamendmentpreservation/
3. Get connected to what is happening in Arizona on Facebook
Join and get active in the Arizona's Tenth Amendment Center facebook page here.
4. Share this information widely. Please pass this along to your friends and family. Also share it with any and all grassroots groups you're in contact with around the state. Please encourage them to email this information to their members and supporters.
ADDITIONAL READING AND RESOURCES
The 2nd Amendment Preservation Act IS constitutional
How to Respond to Unlawful Orders
The 2nd Amendment didn't "grant" rights
LEGISLATION AND TRACKING
If you would like to see model legislation to introduce in your state to nullify federal firearm laws, please see The Tenth Amendment Center's Model Legislation: The 2nd Amendment Preservation Act.
Track the status of 2nd Amendment preservation legislation in states around the country HERE
Adam Henriksen [send him email] is the state chapter coordinator for the Arizona Tenth Amendment Center. Originally from Georgia, Adam has lived in Arizona for 15 years and has been with the Tenth Amendment Center since 2012.
If you enjoyed this post:
Click Here to Get the Free Tenth Amendment Center Newsletter,

Or make a donation to help keep this site active.